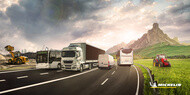 image linkedin multi univers
multi univers Agricole, transport de personnes, transport de marchandises
Do you have questions about Michelin tyres and services for business customers? We're here to answer them!
Message sent!
Your message has been sent! Thank you for contacting Michelin. We will be happy to assist you!
By agreeing to the Terms & Conditions, I agree to receive Marketing communications which includes new launches, offers & promotions from Michelin or its Partners via Text/ SMS, Email or from any social media platform including WhatsApp Message, or any similar messaging services, and I understand that data rates may apply.
I consent to Michelin's Privacy Policy and Terms of Use
MICHELIN IN INDIA
Michelin India Private Limited
5th floor, Tower 4 , World Trade Centre Kharadi,
Pune-411014, Maharashtra, India
Tel.: 044 6791 6302