Background photo adt xtra Construction and Industry
Construction and Worksite
Robustness to improve your rapidity of response
The MICHELIN Construction range of tyres is designed to suit all types of worksites. In difficult conditions and on very aggressive terrain, the robustness of your tyres is essential. A strong resistance to damage means a longer service life and a gain in productivity for your operations. This is why the major civil engineering firms turn to Michelin for the equipping of their machines.
Featured tyres:
MICHELIN


XHA2
Long-lasting performance
View this tyre
MICHELIN


XGLA2
Maximise your grader's traction
View this tyre

AND FOR YOUR WORKSITE TRANSPORT TRUCKS?
Our specific ranges of HGV tyres for use on construction sites and for worksite access satisfy all your mobility requirements.
With MICHELIN X® WORKS™ and MICHELIN X® MULTI™, you can be certain of finding the solution that will best meet your expectations and requirements, whether you give preference to robustness, the mileage, fuel savings, or quite simply maximum versatility.
The choice is yours!
photo rigid truck construction
HGV tyres suitable for construction worksites:
MICHELIN


X WORKS HD D
The sturdiness you need for worksites
View this tyre
MICHELIN


XZY 3
Robust enough for your site vehicle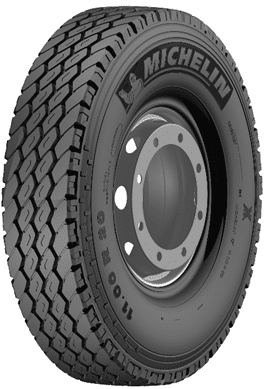 View this tyre
The Michelin group offers you a complete range of tyres, whether you work in energy, waste treatment, construction and maintenance of infrastructure and housing, demolition or the cement industry.
With the help of our online tyre search tool, you will find the best product and the correct size for your construction machines. Loaders, articulated haulers, graders, compactors, scrapers, cranes, skip lorries: you will certainly find a technical response to your requirements and applications.
A few examples of available sizes: 460/70R24, 400/80R24, 445/95R25, 20.5R25, 23.5R25, 26.5R25, 29.5R25.

Thanks to Michelin's radial technology, your tyres last longer, you gain in reliability and you ensure the continuity of your worksite operations. Work with confidence in robust tyres that are resistant to damage and ready to tackle all ground conditions, even the most difficult. You also benefit from greater safety for your teams on the ground and improved comfort for your drivers, while preserving the electronics on your working machines.